Ok, first off, I liked Dr Nathan Horton, alot! He reminds me of Tom Horton. Caring, kind and geniunely interested in people. He's also hot! He was really concerned about Maggie today. I liked seeing a vetran actress get a scene that was so emmotionally intense. Maggie was front burner.

Kudos to Lauren, who plays the scheming Kate. She is doing an aweseom job considering what she has been given.


Also, is Ej starting to get a clue about Nicole? He was very suspicious of her today! And Nicole, lol, honey, don't look at your cell phone every two minutes while in bed with hubby. He's bound to get suspicious, if not damn annoyed....Ej and Nicole today, smoking hot!

Stephanie, Melanie and Brady...Brady, hot,hot hot! I like Ehtan much better as Brady Black, lol!
Melanie, good slap on Stepahnie, who frankly, deserved it1 She had no idea what truly happened, but to go and call Melanie a whore was over the top. The whole catfight scene was excellent!

I like how Melanie is just friends with Brady and Philip. Interesting dynamic!

Now the question is, will Stephanie go back to Philip and stay with him?

I liKE Philly,Phil and Steph, but I also like Nathan and Stephanie. Morever, I like Nathan and Melanie...



Kate, you lying, scheming, murdeous witch! Part played tp perefction. Kate is as usual, a love to hate kinda gal!
_________________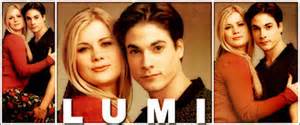 I don't know who made these but they are beautiful.