We are working to get the board ready bc the weekend of July 24th is the Greenville fan event. Tink and I will try and go but if we can't, Vicky will go and drag lol Bryan to the board. We are working on getting him and maybe other days stars to chat. I can not promise it will work out for that weekend but we are going to try. I am going to ask Vicky to please take lots of pics for us. She will be surely giving him the web addy. So post, post, post! Be very active that weekend bc Vicky will try and get him here with us. I hope it will work out the way we want. She will be stopping by the chat box, giving us updates. I had the pleasure of meeting Vicky last year in Greenville. She is a devoted Lumi who is in chat with us a lot. We are using the We Are A Lumi Nation theme by Lumifanatic bc it was Bry's quote from a chat he had with his fans. So we thought it would be best to keep up Lumi's idea of that theme. The fireworks will be staying a while bc they go with the theme.

I love kissing Lumi but they were clogging up the board and making it hard to load. Let's keep the Lumi faith girls!
_________________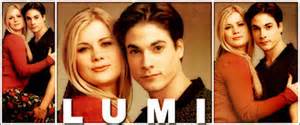 I don't know who made these but they are beautiful.