http://daytimeroyaltyonline.com/topic/8371052/1/

EJ wakes up and thinks Sami is his wife. The way the show is built initially is that he doesn't remember, says James Scott. He remembers up until the wedding and thinks they're married.

Which means Sami has to act like she's his bride. Lexie definitely lays it out for her that Sami might as well be signing his death sentence if she doesn't play along with him because he can't get upset, sighs Alison Sweeney. Though she's not necessarily convinced he's being truthful. I think Sami definitely has moments where she doesn't believe that he has amnesia.

She pointed out to Gary Tomlin that Sami has actually done that story (in 1997); she was faking amnesia. That can't possibly not cross her mind that he's faking. So I think she does test him and ultimately, the fact that his brain scan alarms do go off sets her back on her heels. She can't argue with that. he really is obviously having some sort of medical problem. If she doesn't want to kill him or doesn't want everyone to think that she wants to kill him, she has to be very careful.

But she doesn't have to like it. There's a huge part of her that is relieved she doesn't have a murder charge hanging over her head or weighing on her conscience the rest of her life, but now she has to deal with EJ and she's still extremely angry with him. She still feels incredibly betrayed by what he did to her, how capable he is of doing hurtful tings to their children, which is ultimately her catching point in the whole thing. It wasn't just something mean to Sami to get revenge; he endangered the life and the emotional well being of their child in the process. As relieved as I think part of her is, she is equally frustrated because she is never going to escape him. It's never going to end with him, says Sweeney.

Indeed, Rafe walks in and finds them kissing. EJ just makes a move, previews Scott. She doesn't know what to do, so she just goes along with it. Later, Stefano visits his son, who admits he's faking the amnesia. He just sees this as a way to regroup a little bit, formulate his next move.

Meanwhile, Rafe again presses Sami to tell him the truth about whatever she is hiding. Rafe has really made it clear that he's by her side, so I thin this is a classic example of how insecure Sami is on the inside, says Sweeney. no matter what she says, no matter how she plays it, no matter what she thinks her motives are, I think at the heart it's really that she's just afraid that if he knew the truth, he wouldn't love her, says Sweeney.

_________________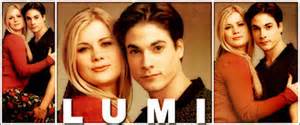 I don't know who made these but they are beautiful.