Soaptown USA

The past year or so has been very exciting for Ari Zucker. In December of 2009, she gave birth to her first child, Isabella, and just recently, she scored her first Emmy nomination for outstanding supporting actress for her role as Nicole Walker. Zucker's life has been full of ups and smooth sailing, but the same can hardly be said for Nicole, whom Zucker has portrayed on and off for over a decade. Nicole has just stumbled onto the information that EJ was responsible for Sydney's kidnapping and Zucker says, "She felt pain and a lot of revenge towards him. She has never really dealt with her feelings for EJ fully, so I think she felt betrayed, even though he was horrible to her when the whole thing came out. She's sort of a glutton for punishment but it was a huge, huge deal for her, even though she was the one that did all the switching and the stealing! But she's also a survivor so she protects herself. But of course the other part of her wants to go after him."

"For the longest time, I think people saw Nicole as the villain, gold-digging bitch, if you will. But throughout the years, I think, as she's gotten older, you start to feel a lot more of the pain and the lacks she has in her life. If I were to describe her now, especially, it's her survival skills. She's kind of one of those people that doesn't worry about the consequences in the future. She looks for the now, which is good if you were doing proactive things in your life! But she basically does everything in the negative and she cannot think four steps ahead of her, even if she thinks she is. I think she just kicks into survival mode and feeds when she can."

"I've fallen in love with her so much over the years because I have sympathy towards her and I feel a lot of the pain that she is going through. She covers a lot, all the time and it gives me a lot of choices to make as an actor. But I have to have that love for her, otherwise, I'm not sure if she'd be working as much as she is! But I love the character and I would best describe her as a survivor. I think there is good in Nicole and I think that's why a lot of fans feel for her and the whole thing that she went through last year starting with the miscarriage and then the love that she had for Sydney was real even though she acquired her in illegal ways. She still loved her so much and that love doesn't end. There is a lot of love left."

Nicole has been put on an emotional roller coaster for the past several years but Zucker is always up for the challenge. "There was a lot of work I did as far as my craft was concerned; I took a two-year in depth program and it really helps you reach emotional depth. So by having that work within me, it made it easier to go to when we have to work so quickly on the show. And also, the storyline is so sad. I put myself in that situation, as if this was happening to me in real life - of course some of the storylines are extreme. But it's really happening and things are being said to each other, or hiding something... you really start to immerse yourself into the character. Once you cross those lines from walking on and off the stage, I really try to immerse myself and go for it. We also don't have a lot of time, so you just kind of have to jump in with both feet."

When Nicole first returned to Salem, she was a martini-swilling laugh riot and Zucker offers her approach to playing the comedic side of Nicole. "Comedy is very difficult. I never really have had the chance to do it outside of (Days), but it is difficult. It's interesting with Emmy submissions and somebody submits comedy and you have someone else submitting hard, emotional scenes, nine times out of ten, the emotional scene is going to win, even if the comedy is hysterical. Comedy looks easy and it's not, it's very, very difficult. I found it very hard to do. When I first came back to the show, I had some thoughts and ideas of my own and I went with them, and either your producer is going to tell you they like it, or to change it. So you kind of take chances. And that's what I did and I really had a good time with Nicole being so loud and obnoxious and big, just to make her point! Now I'm doing it in other ways."

As for the future of her character, Zucker "would really like to see some things resolved. I'd like to see some things happen between EJ and Nicole and maybe even with Sami that have never quite been settled, especially with EJ. There is still a full year of off-camera scenes you didn't see with the two couples. At one time he did care for her, and there's some history there that I'd just like to explore. I would love to see Nicole being a Dimera when she is not scheming on her own and maybe on Stefano's side. That would be kind of fun! That's just wishful thinking on my part. I love working with Joe (Mascolo; Stefano) so that would be fun."

Nicole's love life has been an equally emotional ride. Who does Nicole really love? "I think truly and honestly, her first love with always be Eric Brady, because that was when she was still a little innocent and it never really went much further because the character of Eric left the show (laughs) and she never really got the chance to explore that good side of her. I think as an actor now, I would do a better job from when I first came on the show. I also would say she has always desired to be with Brady because he's so good and he's sort of the hero and he represents some of the things in her life that she wants, or what she sees as the happy ending. But she can never just reach it, she can never just be a good person, or at least choose things in the positive way. And of course the easiest one is someone who is slightly abusive. She and EJ have had some rough arguments and he's the bad guy. A lot of young women love the bad guy. But I think truly in her heart, Nicole wants to be a good person."

"It's like she's Sybil or something, like she's got several personalities that sort of take over!"

The love of Zucker's life is, of course, Isabella, the daughter she shares with husband Kyle Lowder. "I never realized how much a child could teach you," Zucker gushes, "I feel like she's teaching me to be a mom. It's pretty amazing, I've learned so much already from her and it's fun. I have a really good little girl, she's really happy and easy - there's parts where she's teething and all that good stuff and I feel bad for her. But it's something I've wanted for a long time. I use to teach children's gymnastics, they teach ages from four months to seven years. So I did this right out of high school and I always knew that I wanted to be a mom and experience that kind of love. It's really something you can't explain to anyone until you are in the new world of parents. It's a whole new world there."

"I want to teach my daughter that anything is possible. She can be anything she wants to be. And most importantly, to give back to people, whether it's just a smile or if she's out to change the world. And that she can make it possible. I have that dream of my own as well so I'd like to instill that in her. I want to teach her to be a leader but in a very giving way."

The fans have also been generous and giving and for that, Zucker is thankful. "I love you," she says, "It's amazing for fans to watch this show for as long as they've watched for people that you love so much. For the fans that have enjoyed my character so much, even the ones that really dislike her. You fall in love with the people on the show and you either want to rip somebody's eyes out or you don't and that's the whole point. I'm just so grateful. So grateful to still be here thirteen years later; I've left and been asked to come back because of the fans. That's pretty darn special."

"I can't thank all of you enough for keeping me around and wanting to slap me! It's the highlight of my day. It's awesome!"

To find out more about Arianne visit her official website.
_________________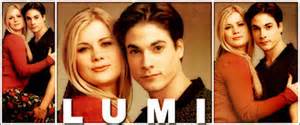 I don't know who made these but they are beautiful.