Don't worry, I'm not back over there ladies, just grabbed spoilers and ran like the dickens, lol!

SOW:Stefano Learns EJ Kidnapped Sydney

After Stefano gets Anna to reveal the truth about Sydney's abduction, he and EJ have one wicked show-down.

"Stefano does a number on Anna," says Joe. "He puts her in a jail-like situation. He scares her a little bit and tells her what the circumstances could be if she doesn't cooperate." She confesses and Stefano is shocked. He has a hard time believing it, but Anna lays it all out for him and it makes sense.

Anna urges Stefano to use the info to his advantage – to repair his relationship with EJ and get Sydney back in his life. Joe says, "For Stefano, this is the No. 1 priority, that little girl. Family is everything to this man."

Stefano calls EJ and leads him to believe he's ready to broker a deal to his benefit. A happy EJ tells Sami he has finally beaten Stefano. Little does he know the situation is going to change, when he arrives at Stefano's with papers for his father to sign. The papers are regarding the ownership of the house, some bonds, etc. Joe says, "If that's what EJ wants, he'll sign off on it (noting that Stefano claims he's willing to do anything to repair their relationship). Once he gets there, he starts with that. Then he says, 'Well, wait a minute. Before we do that let me ask you this……'"

Stefano veers the conversation toward Sydney's kidnapping. He asks EJ if he has any idea who really took her and EJ bluffs his way thorough it. Stefano gives him a chance to come clean, but he doesn't. Joe says, "So Stefano just lets him drown in his lies. Then, he finally says, 'Okay, cut the shit! I know everything.'"

EJ is shocked and when Stefano shows him Anna's tape confession, EJ doesn't think it is proof. When Stefano suggests taking the tape to Rafe and letting the FBI decide, EJ realizes the jig is up and he admits the truth. "Stefano lets EJ have it," says Joe. "He's like, 'I have you by the cajones. It's up to me whether Sami or anybody else finds out the truth, and if they do, you're done. So you better change your ways and follow this path, and I will keep the truth from somebody like Sami and Rafe.'"

What path? Joe says, "He wants Sydney back home at the mansion, and the whole family where he can keep an eye on them and give them a life."

EJ knows this is exactly what Sami won't want so he feels backed into a corner. He realizes that his only way out is to kill his father, and he picks up a letter opener. "Stefano's like, 'What are you doing? Are you kidding me?'" recounts Joe. Stefano quickly plays the 'We are family' card. Joe contines, "Essentially, Stefano says there are times he may want to beat EJ's head in, but he is his son and because of that, he'll always love him. That's the simple fact."

And it's just one of many simple facts that Sami won't be happy to hear!
_________________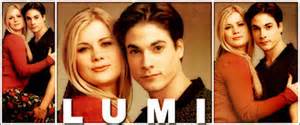 I don't know who made these but they are beautiful.